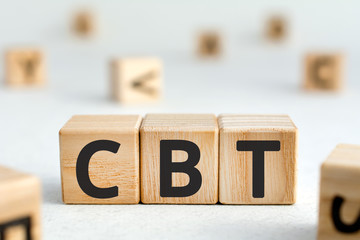 Hello! Have you heard of the term Cognitive Behaviour Therapy before? Or are you in a lookout for one?
I am sure you must be wanting to know what exactly Cognitive Behaviour Therapy for mental wellbeing is. Or maybe you are in doubt if this therapy is for you or not. Either way, we are happy to have you on this page. I hope this article provides you the required information.
The ultimate goal of Cognitive Behaviour Therapy is to improve your overall mental wellbeing. Let's understand this term further.
What is Cognitive Behaviour Therapy (CBT)?
Cognitive Behaviour Therapy (CBT)! Sounds heavy right? Well, let's see what it means. Let me simplify it for you, using a story-cum-example.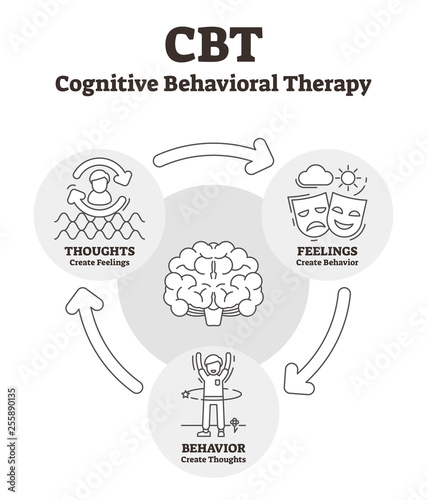 Meaning
There was once a girl named Kyle. At the age of five, her parents left her with her grandparents and moved to a different country for starting a new business. Due to financial instability, they couldn't take her along. But the little girl's thought that they did not love her and hence left her alone. As she grew up into an adult, she had a big-time trust issue in any relationship that she had. She feared people will leave her and go. This caused her immense anxiety and insecurity on a daily basis, in many areas of her life. Kyle began to avoid going out and meeting new people and thus stayed aloof all while. She then finally decided to visit a cognitive behaviour therapist to help herself come out of negative thinking patterns, anxieties, and insecurities.
As described in Psychology Today, Cognitive Behaviour Therapy is a form of psychotherapy that focuses on modifying dysfunctional emotions, behaviours, and thoughts by interrogating and uprooting negative or irrational beliefs.
Let me break down the definition further for you, by taking the help of the story above.
Kyle's insecurity, loneliness, anxiety – Dysfunctional Emotions
Kyle avoiding meeting people or being in any relationship – Dysfunctional Behaviour
People will leave her and go – Dysfunctional thought
Interrogating and uprooting negative or irrational beliefs – A therapist helping her to come out of negative thinking patterns, anxieties and insecurities by way of questioning, or other talking means.
Hope this example has helped you understand the meaning of CBT. Let's dive deeper into it now.
Introduction
Aaron Beck, a psychologist, and a professor invented the Cognitive Behaviour Therapy in the 1960s. He quoted -"if our thinking is simple and clear, we are better equipped to achieve our goals". As a result, CBT is a talking therapy for a range of mental problems. That includes anxiety, depression, phobias, drug addictions, relationship problems, any form of mental disorders, and severe mental illnesses.
Cognitive Behaviour Therapy is a short term and goal-oriented treatment and takes a practical approach in problem-solving. Therapists who practice CBT, personalize, and tailor-make the therapy to cater to the specific needs, and personality of each patient. Although one point to remember is that those who opt for CBT, need not necessarily have any mental health condition. It can be an effective tool even for those who want to better manage their stressful life situations. Basically, Cognitive Behaviour Therapy is for overall Mental Wellbeing.
What techniques are used in Cognitive Behaviour Therapy? And how does it work?
1. What Techniques are used in Cognitive Behaviour Therapy?
A therapist, or a psychologist, may have his own ways to solve a particular case, depending on patient to patient. We have listed down a few common Cognitive Behaviour Therapy techniques for mental wellbeing and used by them.
1. Cognitive Rehearsal
Cognitive Rehearsal is a technique in which the therapist asks the patient to work through the details and specifics of their negative thought patterns. The therapist might recreate the uncomfortable situation, for the patients to see their typical behaviour in that stressful situation. This, in turn, will help the therapist understand the problem, and can suggest ways to overcome it.
2. Validity Testing
Validity Testing is a technique where the therapist asks the patients to write down examples, from their daily routine, that is the reason for their stress. This is basically to validate that their negative thoughts are true or not. Therapists then start to normalize the reasons mentioned, making the patients believe that it is normal to experience such feelings and difficulties.
3. Journaling
Journaling is a technique in which the patients write a journal that allows them to see a pattern in their negative thinking models and behaviour. The therapists can then point it out to them the main problem for their mental condition is nothing but the negative thoughts in their minds. Through this pattern, the therapists can then suggest ways to think positively and to improve their mental wellbeing.
4. Guided Discovery
Guided Discovery is a technique where the therapists ask specific questions about a patient's thoughts, feelings, and behaviour during a typical day. It allows the patient to connect with his thoughts and feelings either through guided discovery or through introspection. In turn, this makes it easier for therapists to suggest ways for patients to overcome negative emotions. This technique aims at 'getting to the root of the problem.'
2. How does Cognitive Behaviour Therapy Work?
First thing, let's understand that Cognitive Behaviour Therapy differs from many other forms of psychological treatment. This is mainly because the therapy sessions have a structure, rather than a haywire talking topics. At the beginning of the therapy, the patient meets his therapist and describes specific problems that are causing him discomfort. The therapist, after knowing the complete issue, sets goals that they want to work towards. The therapist takes an active part in structuring the sessions, as it will help to use the therapeutic time more efficiently. This is also to ensure that you don't miss out on important information. Cognitive Behaviour Therapy treatment targets to change thinking patterns. That is, to make a shift from negative feelings or emotions to positive ones.
Strategies to support Cognitive Behaviour Therapy
Recognise the patient's distorted thinking that is creating problems to him. Then, re-evaluate them in the light of reality.
Understand the behavioural patterns.
Suggest ways to solve a problem, so the patient can be able to cope with difficult situations.
Instil a greater sense of confidence in the best of patient's abilities.
Help the patient in facing his/her fears, rather than avoiding them.
Use different methods, like role plays or recreation of a situation, to help the patient face the challenges
Suggest ways to calm one's mind and relax one's body while in a difficult situation, or just in general.
Just to reiterate, all therapists may or may not use these strategies. This is because the treatment is circumstantial, and varies from person to person. The main idea is that the therapist and the patient should work together in a collaborative fashion, which ultimately works the best for the patient. There may even be different kinds of exercises in the session, as well as some homework after the sessions. This is to help patients develop coping skills where they can self-learn to change their thinking, emotions, and behaviour.
Now that we have understood what Cognitive Behaviour Therapy means, and how it works, let me explain to you who can benefit from this therapy the most. I will also explain to you its advantages and challenges.
Who benefits from CBT?
Cognitive Behaviour Therapy is recommended, or rather works wonder, if you suffer from the following mental problems –
Anxiety or panic attacks
Chronic pain
Drugs or alcohol addiction
Depression
Eating disorders
Heavy mood swings
Phobias
Obsessive-Compulsive Disorder
Sleep disorder
Sexual and relationship problems
Post-traumatic stress disorder
Chronic fatigue syndrome
Anger or short temper
Child and adolescent problems
A feeling of solitude or loneliness
Hallucinations and delusions
What are the advantages of Cognitive Behaviour Therapy?
As mentioned earlier, there a lot of problems that can be treated with Cognitive Behaviour Therapy. It involves a great deal of work from the therapist's end and a lot of self-reflection from the patient's end. The tuning of both is fundamental to achieve satisfactory levels of benefits from the therapy. Cognitive Behaviour Therapy provides a strong support system to the patients and allows them to work towards changing their negative behaviors. It also helps create positive emotions, thoughts, and feelings which help the patient to raise his own self-esteem and strength, to deal with difficult situations. During the sessions, patients also get to learn to identify their problems and to recognize the thoughts and behaviour patterns they need to avoid. This helps the patients to prevent relapses. Thus, Cognitive Behaviour Therapy improves overall mental wellbeing and brings in more and more positivity.
What are the challenges of CBT?
After looking at the advantages, let us also fancy a glance through the challenges that CBT involves.
Cognitive Behaviour Therapy is a short-term process. A sudden change is not seen as it involves confronting emotions and anxieties which are built over the years
To derive the most out of the session, a complete commitment to the process is a must. Attending regular sessions, along with some in-between homework, may take up a lot of personal free-time.
Cognitive Behaviour Therapy does not work for people with complex mental health needs, or learning difficulties, as it is a structured session.
It completely focuses on a person's capacity to change and make a shift from negative to positive. Thus, the willingness and the urge to make a shift matters a lot in this kind of mental therapy.
All in all, in my opinion, Cognitive Behaviour Therapy does involve a lot of hard work from both – the therapist and the patient, but the benefits of it are worth it all. It is always better, and grounding, to have a healthy mind, and to be free from any negativity. If, by any chance, the mental problem still persists, please do not hesitate to come back to your therapist, and proceed with your cure.
---
I hope your journey to wellness continues with love, and wellness!
If you are curious to discover other techniques to improve your Emotional Wellness, aka Mental Wellness, have a read here 🙂
If you found this article interesting and want to go deeper into this topic, I would suggest you a great books from one of my favourite teachers and healer: