Basic Naturopathic Medicine is a life-philosophy for me.
"The natural healing force within each one of us is the greatest force in getting well. Our food should be our medicine. Our medicine should be our food." – Hippocrates
I like to start this article by referencing a great mind and philosopher, Hippocrates. It's always nice to appreciate the great mind's words and concepts. I actually feel so inspired by them, most of the time, that I can't resist sharing their knowledge with my readers.
Assuming, rather I am sure you must have heard about this word before. Maybe, unfortunately, you did not have the chance to dig a little bit deeper into this topic. Sorry, I meant, into this amazing topic.
Modern medicine, ancient medicine… present, or past? What works better?
I like to analyse things deeply. I also tend to prefer old-school methods… At least, I tend to prefer non-artificial methods. In my opinion, all we need is already so nicely available in nature. We just lack the correct information to exploit it at best!
Would you like to cure yourself only with natural products (unless drugs' need is strictly necessary)? Do you feel chemical products can actually harm yourself, your health, your skin? Do you think our world is over-crowded with petrol-derived or artificial products? I think you are right: we should take a look back at what our ancestors were able to do. Do you think their 'unfortunately' forgotten knowledge should be rediscovered?
You are lucky then: as you came to the right place. Well done!
Because, I think like you, and I am on your same wavelength.
Introduction to Basic Naturopathic Medicine
Developed in the late 1800s, basic Naturopathic medicine involves the use of natural ingredients or remedies to help the body heal itself. It not only aims to improve health but also serves as a preventive measure for any disease or illness. As the name suggests, basic Naturopathic medicine involves the use of organic foods. When coupled with regular exercise, it shows the way to a healthy and balanced lifestyle.
The only mantra for Naturopathy is – "Food is only the medicine". Isn't that great? With the wisdom of nature and some assistance of modern science, naturopathy has now become a distinct health care profession. This is a profession that targets dysfunctions at the level of body, mind, and spirit.
Basic Naturopathic medicine is a celebration of nature's healing powers that promotes the body's self-healing mechanisms. It uses a natural form of treatment such as nutrition, acupuncture, homeopathy, herbal medicines, fasting, exercises, etc. Also, it aids the human system to remove toxins from the body by expelling unwanted matters, to help cure the disease. Thus, it is the art and science of 'drugless system of healing and healthy living'. We have often heard about basic Naturopathic medicine treatment, but do you want to know how it exactly works? If so, let me show you.
Let's Start with the fundamentals!
What are the Principles of Basic Naturopathic Medicine? What is a basic Naturopathic Medicine Treatment?
Naturopathic medicine is defined by principles rather than by methods or modalities. Above all, it honors the body's innate wisdom to heal. These principles are based on the observation of the nature of disease and health. Which are examined continuously backed by scientific analysis?
The 6 Principles of Naturopathic Medicine are as follows:
1. The Healing Power of Nature – vis medicatrix naturae
This principle states that the body has the inherent ability to restore, maintain, and establish health. Naturopathic physicians conduct this healing process by identifying treatments to enhance healing. They also do it by removing all obstacles that go against the cure of the disease.
2. Identify and Treat the Cause – tolle causam 
It is a known fact that if there is an illness, it cannot occur without a cause. Therefore, it is important to discover the underlying cause of the disease before removing it, or before treating the person. Symptoms are the indicator of an occurring disease and not the cause of the disease. In contrary to most of the Modern Medicine treatments, Naturopathic medicine addresses the primary cause of the disease and not the symptoms. These causes may range from physical to mental-emotional, to spiritual levels. The role of a Naturopathy physician is to evaluate fundamental underlying causes and direct a treatment targeting the root causes.
3. The Doctor as Teacher – docere
The origin of the word "doctor" (docere) means teacher. The physician acts as a catalyst in educating patients by laying down steps to achieve and maintain their health. Educating and supporting their patients on personal health management is a crucial role for naturopathic doctors. Thomas Edison once quoted, "The doctor of the future will give no medicine, but will interest his patients in the care of the human frame, diet, and in the cause and prevention of disease."
4. First, do no harm – primum no nocere
A Naturopathic treatment means that it uses a natural form of remedies to cure and heal. Thus, the treatment plan uses therapies that are effective, non-invasive, and do not have any adverse side effects. As a result, the doctors make a conscious effort to understand the symptoms and suggest treatment accordingly without suppressing it.
5. Treat the whole person – in perturbato animo sicut in corpore sanitas esse non potest
Any kind of disease is a condition of the whole body – physically, mentally, spiritually (and socially). Hence, while treating, the doctor must consider all these factors. This means treating the whole person, and not just the symptom or the disease. It is of utmost importance that all these aspects of an individual function harmoniously. This is to either recover from a disease or to prevent it.
6. Prevention – principiis obsta: sero medicina curator
"Prevention is better than cure", haven't we all heard of this a zillion time? Well, it is definitely easier and cheaper to prevent disease, than to cure it. Naturopathy's way of living promotes healthy lifestyle habits, that foster good physical and mental health. The emphasis is on using natural remedies as a continuous process, rather than fighting the disease with it. Specific lifestyle strategies, or natural nutritional supplements, can help both doctors and the individual to create a healthier environment.
What are Naturopathic Treatments?
We have just learned about the principles a naturopathy doctor adheres to while conducting his research. It is now time to look at the types of treatment he may recommend as the case may be. The basic naturopathic medicine treatment combines and adapts to the needs of an individual, ensuring the person as a whole is treated. Naturopathic medicine helps cure diseases that may be acute or even chronic.
Below are some therapies the doctors use as Naturopathic treatment:
1. Nutritional Therapy
Nutritional therapy involves the practice of using naturally available food to maintain good health and prevent any sickness. It is also used to treat illnesses based on symptoms and clinical assessments. The patient is given targeted vitamins, minerals, and other nutrient therapy, either orally and/or by IV.
2. Counselling and Stress Therapy
It is a world-known fact that if we are not mentally happy, our physical health won't be 'happy' either. Mental and emotional states are important elements that do impact our health. As a result, to cure or to prevent any illness, basic naturopathic medicine treatment involves counseling and other mind-body balancing techniques.
3. Herbal Therapy
Also known as Botanical Medicine, Herbal Therapy involves the use of plants as medicine. Nature is full of plants whose substances are powerful, effective, and safe for medicinal purposes. These, when used properly, help to treat many ailments naturally.
4. Physical Therapy
Physical Therapy means the manipulation of muscles, bones, and spine to relieve any stress in the body. This can be done in the following ways:
– By applying hot and cold packs.
– Using hydrotherapy, electrical impulses, or ultrasound.
– And by taking advantage of specific physical exercises.
5. Homeopathy
A powerful system of medicine, Homeopathy uses a highly diluted natural substance to target a particular illness. At times it may also happen that conditions that do not respond to conventional medicine, respond to homeopathy.
Does Naturopathy work?
Well, to be honest, just like the two sides of a coin, we too have a dual answer to this question. Basic naturopathic medicines are often successful in treating an illness that doesn't respond to conventional medicines. They are at liberty to customize a treatment plan that targets the patient, through nutritional supplements and dietary plans. The naturopathy doctors understand the art of healing through natural resources, without the usage of the drug in any form. This treatment cures the body as a whole, which means mentally as well. Naturopathy is particularly effective in treating conditions like migraine, depression, asthma, hypertension, diabetes, etc.
Naturopathy is all about maintaining a healthy lifestyle through 'natural' resources. However, how far do we believe that all-natural resources are "natural" and "pure"? Well, mother nature sure does gives us a variety of fruits, vegetables, and different sorts of herbs. But are we sure they are free of insecticides, pesticides, viruses, and other harmful germs? Navigating the perils of nature is difficult. As a result, stating an opinion about whether basic naturopathic medicine is completely effective or not is slightly challenging. This is because there are so many practitioners and different treatments under the umbrella.  
Having said so, of course, there are illnesses that cannot be cured with Naturopathy only. With the same principle, there are doctors who are better than others. Some doctors might actually be able to cure a patient with Naturopathy, while others might not. It's a combination of both the uncertainty of whether the illness can actually be cured with Naturopathy only, or not. Together with the ability of the doctor to create a treatment that is as effective as possible.
It is also important to remember that Naturopathy is extremely effective in preventing illnesses, more than curing them.
Is Naturopathy Safe?
Yet again, the answer to this question could be a Yes or a No. And this is simply because no treatment gives a 100% guarantee of safety. Be it naturopathy or any other health modality, a doctor will always lay out the probable risk factors. Along with the benefits of a particular medication or a treatment. We often have this notion that if a particular product is natural, it must be safe. Well, that's not always the case. Herbs and other natural products can have side effects of their own. It may also have a dangerous impact when interacted with certain conventional medicines, treatments, or food.
Some of us might even question our forefathers. They depended only on natural treatments and survived well without any infusion of medicated drugs. Agreed. However, we now dwell in an ecosystem of electromagnetic pollution, combined with chemical pollutants which our forefathers have never experienced. Thus, purity is diluted now. This definitely does not help basic naturopathic medicine treatments from being risk-free.
Would you like to share your opinion on basic naturopathic medicine?
Have you, or any of your family members, ever tried basic naturopathic medicine? If so, we would be happy to hear the experience. Well, after all, to each his own! 😉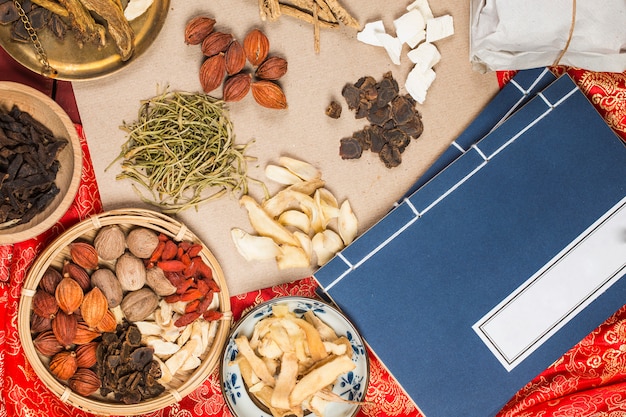 Thank you for reading my article. I hope you enjoyed it, and that it acted as a catalyst for your curiosity about basic naturopathic medicine.
If you found this article interesting and want to go deeper into this topic, I would suggest you a great books from one of my favourite teachers and healer:
You can also check out my article on an offbeat yet useful topic – Ayahuasca Medicine
AC Life
#beMore